Four Office 365 calendar options for busy bees
Staying organized is crucial for efficient task management, especially in remote offices. Sometimes, we get overwhelmed with the number of tasks, meetings, and events we have to take care of every day. We have to continuously keep up with them to not fall behind. 
Thankfully, there are many digital calendars in the Office 365 suite that can help us stay on top of things. Even better, these calendars keep being updated to sync with our needs for working and studying during the pandemic. Recently, Microsoft released Channel Calendar for Teams, a calendar that Microsoft Teams users can add to any channel. Some Calendar Pro users asked us the difference between Outlook calendar, Channel calendar, Calendar Pro and Teams calendar. This article will compare these four calendars in terms of their adaptability, simplicity of their use, and unique features.
Outlook Calendar
Perhaps, the most familiar one is the Outlook calendar. In 2020 fall, Microsoft Outlook 365 added two additional views for the Outlook calendar, an easier way to RSVP, improved event scheduling capabilities, and a handy new status for invitations. On top of that, it's all packed into a more attractive app. Here is a quick run-through of Outlook calendar's latest features, explaining why it makes a great organization tool.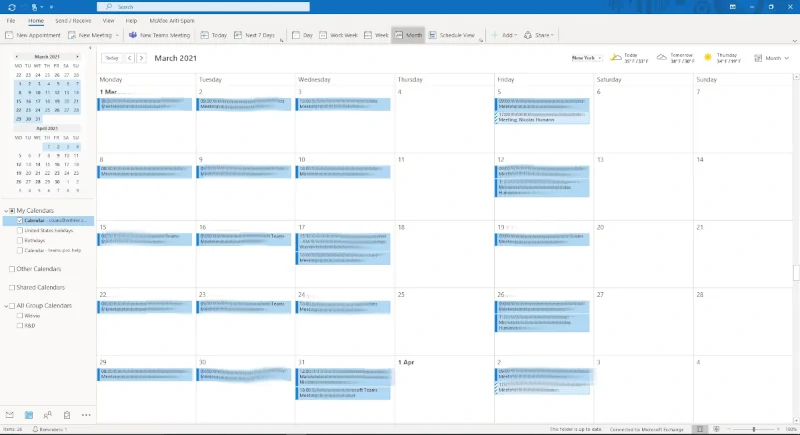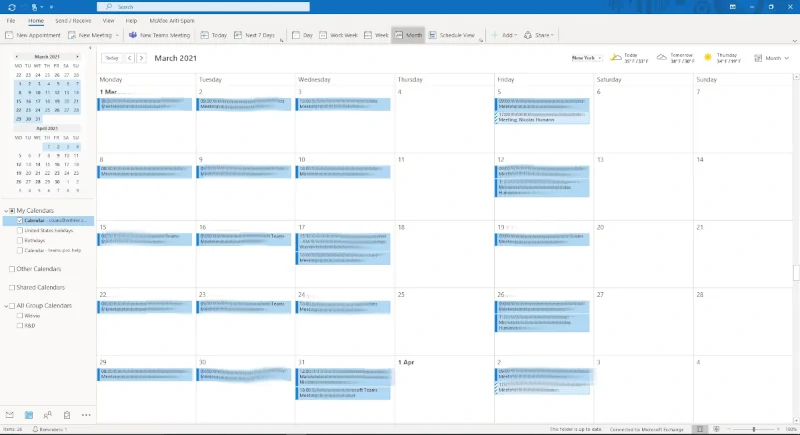 Outlook Calendar advantages
Like the one in Teams, a handy Microsoft Outlook feature called My Day allows you to quickly view your daily schedule. You can view the agenda or day and add an event with a single click. If you want to see more than one day in your Microsoft Outlook calendar, but a week (or even a workweek) is too much, you can now also try a three-day view.
What makes Outlook calendar more advanced than the calendar in Teams is its integration in the email app. It's useful when you can reply to an email in the same window rather than a new one that opens automatically. This is why Microsoft has added event responses to your calendar in addition to emails. Scheduling events can also be tricky when you're working from all calendars. However, with advanced settings in Microsoft Outlook, you can select a time, check availability and quickly switch to another day.
Another Outlook calendar's advantage is its latest new calendar feature for Outlook that is called Meeting Insights. Depending on your event or attendees, Outlook will suggest emails and files for your event. If meeting insights are available, you will see them in the tab next to the "Meeting Insights" field in the event window.
One of the older features that make Outlook calendar stand out is to view two calendars from different teams next to each other. This option makes it easier to cooperate, for example, between work and school, or even personal appointments. Furthermore, keep in mind that you can still categorize events in your calendar with the new Outlook and display the weather if your event takes place in a different location.
Outlook Calendar disadvantages
Some of the Outlook calendar disadvantages include that it doesn't have a two-way synchronization with Teams. We have said that the Teams calendar automatically imports into Outlook, but it doesn't work vice versa. Additionally, some Android users have reported problems with the mailbox synchronization on their mobile devices.
Conclusion
All in all, the Outlook calendar is a handy tool if you are an active user of the Outlook mail app. If you are a part of multiple teams or organizations, or even if you have to balance in person and digital events and meetings daily.
Teams Calendar
It's not a secret that Microsoft Teams is more than just a chat app. It is a multifunctional app for better remote work organization within corporate or educational institutions. Teams feature an elementary calendar version, where users can keep track of their meetings or events. Simplicity is the key quality of the calendar for Teams. It doesn't have too many complicated features, but it gets its job done.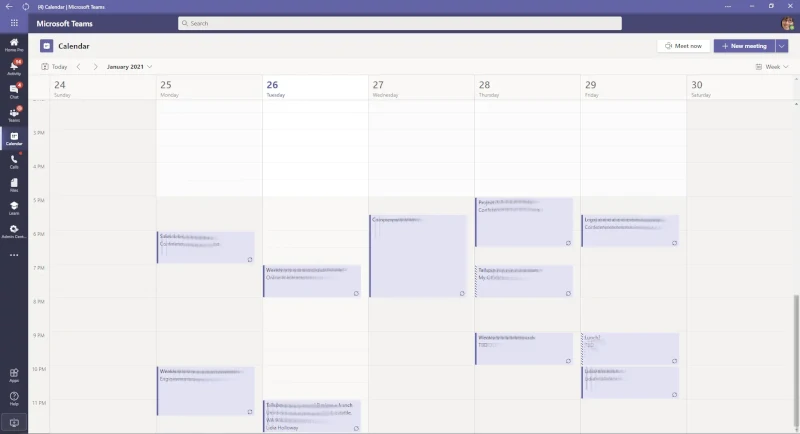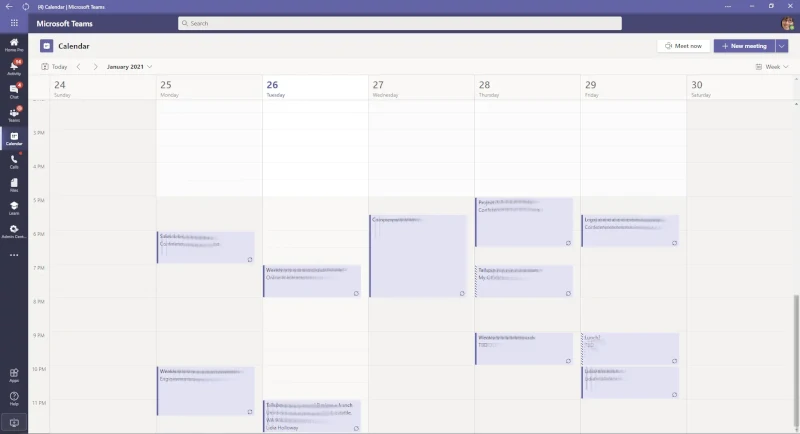 Teams Calendar advantages
The Teams calendar is easy to access. It appears in the menu on the left as soon as you open the application. You can choose whether you want to have an overview of your week, your workweek, or, in case you are really busy and would like to take one step at a time, your day.
Not only can you see your upcoming meetings in the Teams calendar, but you can also take some actions on them. You can create new events or meetings, accept or decline existing ones, you can jump into the meeting right from the calendar window. You can also send a message to the participants if you're running late or if you have some important information to share. The main advantage of the Teams calendar is that it is easy to access, navigate around it and manage Teams meetings.
Teams Calendar disadvantages
Compared to other Office 365 calendars out there, the Microsoft Teams calendar is not the most advanced. For example, it doesn't have an option to have a monthly view of the calendar. It is the most common and familiar to the eye layout, which gives users a bigger picture of upcoming events, and it would definitely make the Teams calendar more convenient. On the other hand, the Teams calendar easily synchronizes with the Outlook calendar, automatically adding meetings.
Conclusion
If you want to use an accessible and simple calendar, have a more detailed overview of your day, or keep your Teams meetings, e.g., class schedule separate, then the Teams calendar is an excellent tool for you.
Calendar Pro
Calendar Pro has been in the top rankings of the Microsoft Teams apps for several reasons. It is suitable for an organization of any size and of almost any need. Calendar Pro can be used as for managing a large group of people, as well as for planning among a smaller group, for example, an advertisement agency.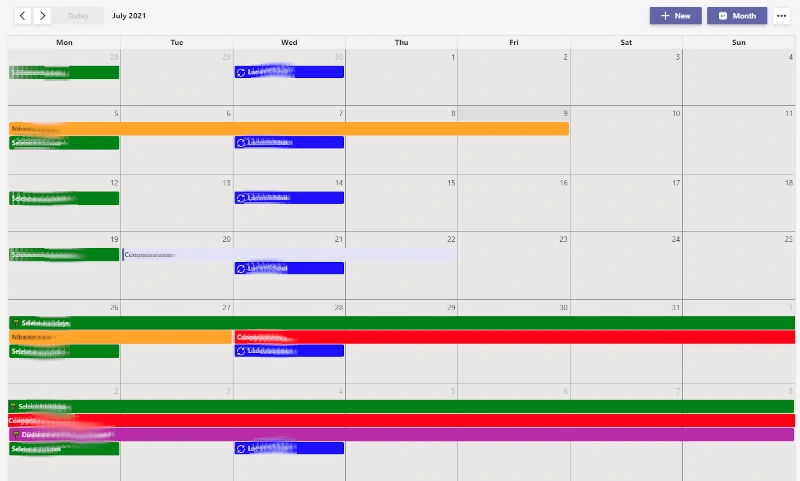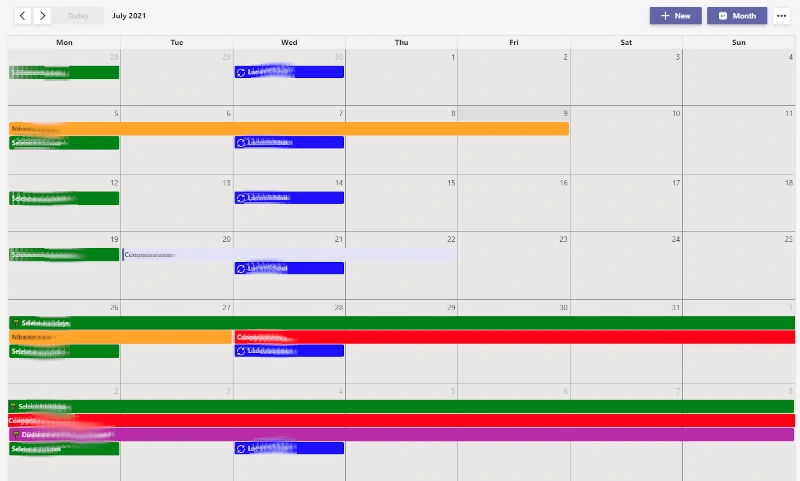 Calendar Pro advantages
While an Outlook Calendar invite is great for mandatory team meetings, Calendar Pro is really useful for the wide range of meetings and activities that people can attend only if they want to. It also helps to prevent conflicts between different groups, as all group activities are recorded in the one place.
Calendar Pro has a big popularity among schools as well, where it is valued for the option to print out the calendar. No other calendar in Office 365 suite has so far integrated this feature. You can print out your weekly schedule in Calendar Pro and hang it on the wall, for example, or keep it on your desk. Another great feature of Calendar Pro is that you can add it to a private tab – to manage your personal appointments or, for example, after class hours or courses, that will be available to you only.
Calendar Pro disadvantages
We have some good news and some bad news regarding the Calendar Pro mobile version. Bad news, it has some issues being displayed on IOS depending on its version, but good news is – it works just fine on Android. The reasoning behind it is that Calendar pro is a Microsoft app, so it is really not the fault of the developer. Hopefully this compatibility will be worked out in the nearest future.
Conclusion
Calendar Pro has a very broad palette of functions. Whether you are a manager, an employee, a teacher or a student, Calendar Pro will most likely have the tools to satisfy your organizational needs.
Channel Calendar
Finally, we are going to discuss the Teams Channel calendar. Microsoft has recently introduced the Channel calendar application for Teams, making it in sync with colleagues even easier. The improved calendar experience has been gradually deployed, and it's publicly available since the end of January.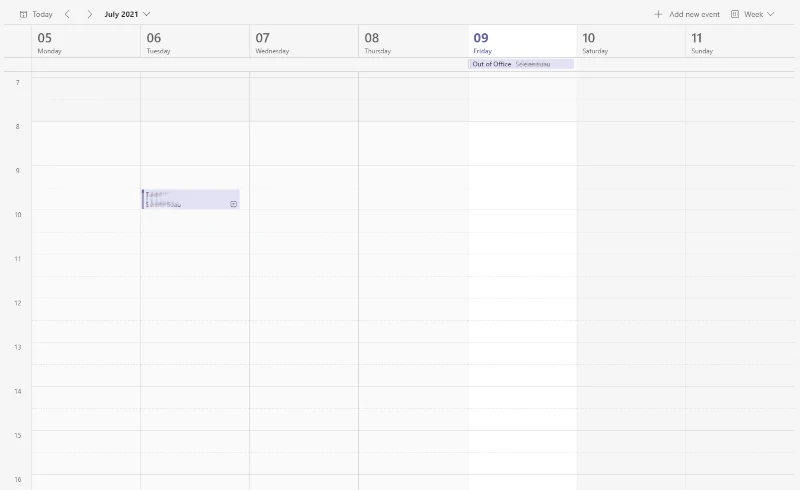 Channel Calendar advantages
This feature allows users to add a shared calendar as a tab for each Teams channel and make it available to all selected channel members. They will be able to see scheduled meetings and events as a calendar grid. Microsoft Teams will automatically send a notification to the whole team as soon as any user schedules a new meeting. It will also appear in the activity feed, and users will receive a notification. Channel calendar is great for those with a busy schedule. It helps separate meetings regarding different topics and withing different teams, that way you don't mix them up or miss out on something important.
Channel Calendar disadvantages
Unlike Calendar Pro, there is neither an option to add it into a private tab nor share your calendar's contents externally with non-Teams users. There is also no integration with Outlook or SharePoint just yet.
Conclusion
In essence, given that this utility is still very fresh, we can undoubtedly say that it is an excellent initiative of a shared calendar in Teams, with good potential.
The way you manage your daily tasks as a remote worker is crucial for your productivity. Having everything saved in one place, easy to access, and shareable with people in your team helps to stay organized. It makes it easier for your manager and colleagues to monitor your workload remotely.
The four mentioned in this article Office 365 calendars are great tools for keeping in sync with daily tasks, meetings, and events. Some do their job better than others, depending on your needs and goals of using a calendar. Either way, when used separately or together, these Office 365 calendars help keeping some worries of forgetting something important, so you can focus on getting quality work done.