Save, organize and quickly access your contacts in Contacts Pro app for Microsoft Teams
Do you ever feel like there is something missing in Microsoft Teams? Where do you keep your internal and external contacts? On a piece of paper, on your phone, in your diary, in Excel? Whichever it is, these options are not convenient by the fact that:
Phone, mail, and other important information about the client can be lost, and with it the client himself.

It is already not easy to find the right client. Moreover, try finding them among the heaps of papers or files.

It is difficult to keep the entire history of communication with a client. Have you tried to write detailed notes about each of your clients in a notebook?

The search speed for the information you need is very slow.
Luckily enough, there is finally a contact book app in the catalog in Microsoft Teams, and it's called Contacts Pro. It is a new app with a big potential for a better contact management.
For many people it is extremely important to have a better understanding of the people they work with and easily establish contact with them if needed. Whether it's a big corporation or a small team, sometimes it's hard to keep track of the employees and colleagues, let alone keep their contact information up-to-date and all in the same place.
We often focus more on organizing our files and documents, meanwhile Contacts Pro provides a perfect solution for keeping track of people inside and outside of your company.
Collecting internal contacts

With Contacts Pro you don't necessarily need to go through your group chats and team channels to look for the right person to contact. You can simply have all of your co-workers' contact information, including their social media accounts in one place.

Recording external clients and providers

Contacts Pro makes it easier to use Microsoft Teams for all your business contacts or people you know in the industry, outside of LinkedIn – now everything can be saved in one easily accessible place.

Adding notes

If there is something noteworthy of a person you are adding to your contact list, there is an option to add some notes. If you are a part of a large organization, it could be a note stating which department your colleague is in. It could also be a note about a potential client: a company they work for, their time preferences for your next meeting together or a to-do list. This is where it can get creative – you can even save your colleague's birthday or their favorite drink at Starbucks.

Influencer marketing

Unlike any other contact book application, Contacts Pro has slots to add social media links. If you find yourself working with influencers or any other social media active people, it might be a perfect tool for you to conveniently save the links to their profiles for future reference.

Making remote work more personal

Contacts Pro has an option of adding a picture to your saved contact. Now, that a lot of things have moved to the virtual space it is important to remember what your colleagues and clients look like behind their phone numbers and email addresses.
It's simple to use

If you are looking for a simple contact management tool, then Contacts Pro is a perfect tool for you. You don't have to be a tech savvy to navigate through the app, it only requires a couple clicks to add a contact to your list. As far as installing goes, you won't need to create any accounts, just open it and start using the app right away.

It keeps everything you need in one place

Instead of Excel tables, a lot of documents and running around offices, everything can be saved in Microsoft Teams now. You don't have to switch between numbers of apps – all needed information is saved in Contacts Pro for quick access. You can schedule a meeting and send an email saving lots of time by not having to search for the right email.

It's free

While Contacts Pro may be yet lacking some of the more complicated features of a CRM, it is free to use. It's a good deal for an app that lets you store important names, contacts, and addresses, as well as schedule meetings and send emails right without leaving Microsoft Teams – all free of charge.
The developers at Witivio are working on improving the Contacts Pro app with even more functions to make storing and searching for needed contact information even easier.
To install Contacts Pro, search for it in "Apps".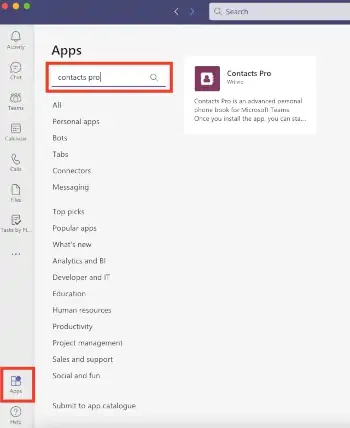 Then follow the instructions on the screen to add Contacts Pro to the tab of the channel of your choice. Apps can appear in three places: in the sidebar, as a tab, or below the chat window. The apps you add as tabs are available to the entire team.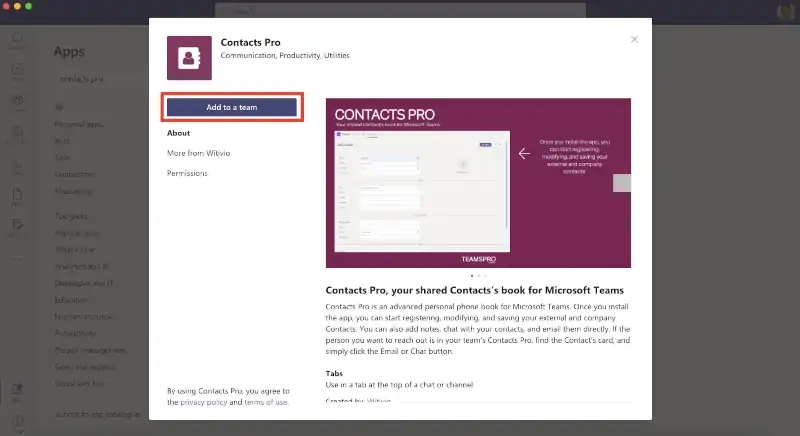 You will be asked whether you want your contacts displayed in form of cards or in a list. You will be able to change it at any time later. For the sake of this tutorial, I chose the list view.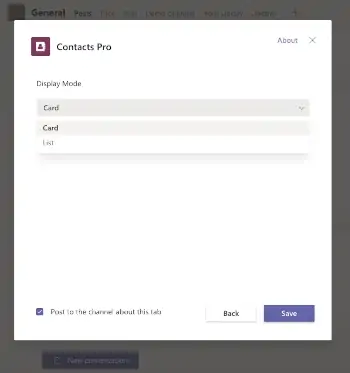 To add a new contact, click on "+ New" in the top left corner. You can create a single card or a group.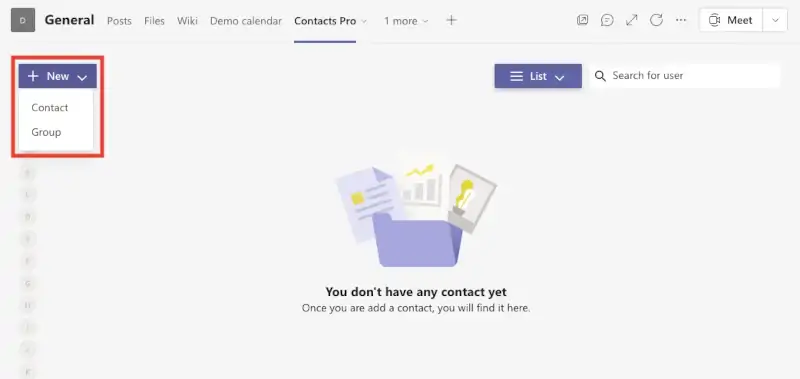 You are now offered to fill out the information about your contact. After you are done, click on "Save".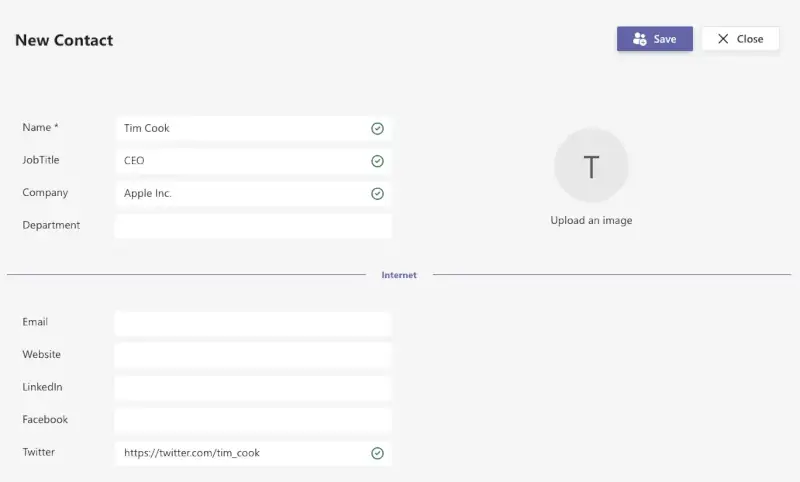 The only mandatory field on this page is Name. The rest you can always fill out and/or change later to keep your contact up to date.
Easy like that – the new contact appears immediately in the list.

Microsoft Teams user base is growing rapidly due to the shift into remote workspace for many people. It is a great platform for communication, and it is extremely customizable with all the apps that are offered in the catalog. Microsoft Teams is designed in a way that allows you to see everything you need for effective work in one place. However, this is only possible if you add Microsoft or third-party apps like Contacts Pro to your Teams.
Teams helps you organize your remote work so that you don't feel isolated: you will always be in touch and can share news and ideas with colleagues in real time.
The collection of apps in Microsoft Teams keeps growing as the demand to personalize the Microsoft Teams experience is very high. Thanks to apps like Contacts Pro, you can set up your virtual workspace to meet every need of your organization.
For more information on Contacts Pro and other Teams Pro apps visit https://www.teams-pro.com